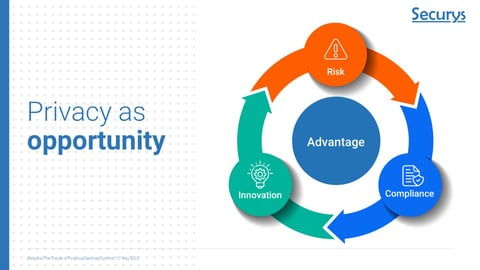 Privacy: Risk and reward
Ben Rapp, Founder and Principal at Securys provided a keynote presentation at the recent Data and the Future of Financial Services Summit in London.
In his keynote, Ben outlines a fresh approach to privacy that balances perceived tensions between risk, innovation and compliance and enables businesses to reap returns and rewards.
He argues for compliance with data protection regulation to be viewed as a launchpad, not a hurdle, for customer trust to be at the heart of decision-making over data and for greater and earlier engagement with privacy teams.
Click below to watch the keynote presentation recording (approx. 10 mins).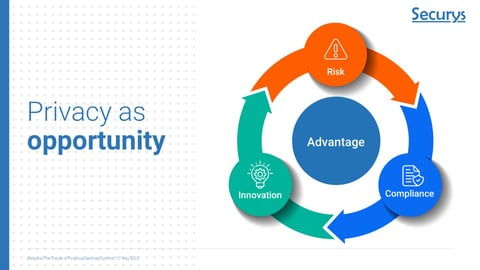 Please complete this form
Privacy is more than just compliance; it's about
building trust.
Trust with your customers, employees, suppliers, shareholders and the wider community. Get privacy right and you'll see concrete returns across sales, employee relations and investment.
Visit our research hub to see how your business could benefit from using privacy as a competitive advantage to drive growth.
Read more